You've come to the right place.
---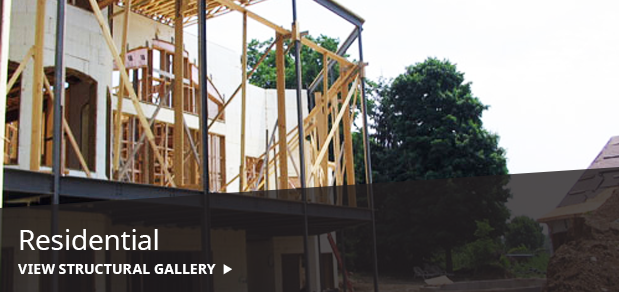 ---
At Suburban Steel Supply, we cut our teeth on this area of the business. From day one, we understood the many benefits of using structural steel in the residential construction market. For starters, it's less expensive and significantly more durable than wood. It's also stronger and lighter, yet it won't warp, bow or sag. Consequently, homes built with structural steel have straighter walls and level floors, and they can be designed with greater headroom and clear span throughout.
Today, we work with custom and production home builders to fulfill all their structural steel needs. They have learned to count on us for our depth of knowledge and our consistent, high-quality service. Perhaps most important, we always respect deadlines. We understand the sense of urgency builders and contractors face when working on these projects. So we're all about getting the job done on time—every time. Our next-day delivery speaks for itself.
At Suburban Steel Supply, we can meet all your structural steel needs from start to finish. That means we can engineer it, fabricate it and install it. One day it's a pencil drawing. The next thing you know, it's holding up the second floor of a house. No job is too big or too small. We treat them all the same.
Finally, you never have to worry that we'll leave something out. From estimating, placing the order, field measuring, detailing and full-service fabrication, to delivery, erection and job-site welding, our professionals can assist you every step of the way. A full itemization of the services we provide is included in the estimate. And since we've done all this many times before, we'll try to be helpful by bringing a few extra things to your attention.
Our stock includes many sizes of beams, angles and channels ready for fabrication and next-day delivery.
We fabricate orders to length and punch, and drill or shear to specifications.
Many of our orders are painted in our professional finishing shop.
Most orders placed by 1 p.m. will be fabricated, painted and delivered to the job site by the end of the next day.
Please visit our gallery to view our many residential and commercial projects.